Petra Winery, Suvereto, Tuscany, Italy
—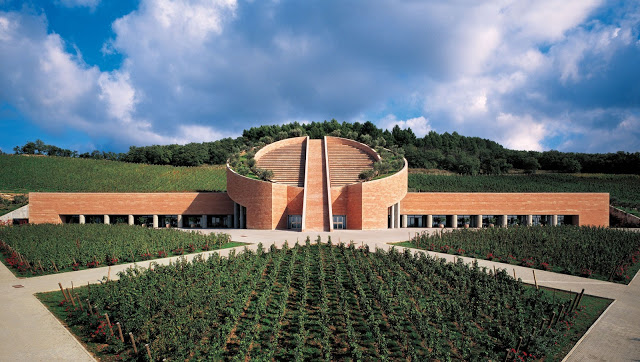 Designed by swiss architect Mario Botta Petra chose to create a powerful symbol within the landscape rather than build a more conventional industrial comple. Petra, with its clean forms and signature branding, is clearly Botta. At Petra the world-class architect went beyond designing an impressive wine cellar, but also included the outlay of the vineyards in his aim to form a contemporary agricultural landscape.
The materials, the colors, the cylindrical form present in many of his projects (e.g. the San Francisco museum of modern art), the trees on the roof (see his cathedral of Evry), and last but not the meticulous attention Botta pays to minute detail. 
The winery sits against rolling hills of vines and it presents itself as a a dramatic cylinder of brick and local Prun stone. Cropped to reveal its sloped elliptical face, the circular crown is bisected by a dramatic staircase and studded with a ring of olive trees and grasses. 
© Images Petra Winery